Online High School Featuring Iñupiaq Tradition and Culture
The Qargi is a relaxed, comfortable learning space where North Slope students come to receive academic support, social-emotional support, participate in cultural projects, community projects, and engage in active learning of the Iñupiaq language and culture. Flexible online high school academic courses and tutoring are offered 24/7 and can be accessed from home, the Qargi, or anywhere that has an internet connection. In addition, trained elders share traditional Iñupiaq culture, language knowledge, stories, and foster the Iñupiaq ways of connecting and mentoring with the youth.

Tikisaaksraq
ICAS/Qargi-mi miŋuaqtuqtuat qutchigniqtauruakun iḷisaġumiñaqtut, iḷitchilutik itqanaitchumaut savagniaġumik sumipayaaq, suli suammaktaaqsaqługulu uqautchiqpullu iñuuniaġusiqpullu.
Vision
ICAS/Qargi Academy students have access to a quality education, gaining knowledge and skills to prepare them to be contributing citizens in society with a thriving Iñupiaq language and culture.
---
Maliġuagaksraq
Iḷisaġumiñaqsaqługich qutichigniqtauruakun Iñupiatun suli iñuuniaġusiptigun itqanaitquvlugich miŋuaqtuqtuat aullarriutquvlugich suli allaŋŋuutauyumiñaqtuakun nunaaqqilaaŋiññi, North Slope-miḷu suli allani nunani.
Mission
To provide access to quality education based in the Iñupiaq language and culture that prepares students to lead, thrive and influence in both their local communities, The North Slope and broader society.
---
Qargi Academy offers North Slope high school students:
Guidance from trained, local Ilisaqtitchiriit who monitor student academic progress and are passionate about serving youth and fostering the Iñupiaq language and culture.
An exceptional, individualized online high school curriculum with the ability to learn anytime, anywhere.
A flexible year-round schedule that allows students to work at their own pace and participate in seasonal subsistence activities.
Physical Qargi Locations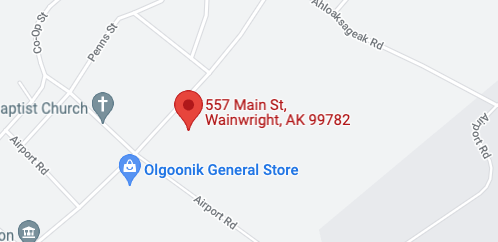 Wainwright Qargi Academy Tribal School
557 Main Street Wainwright, Alaska 99782